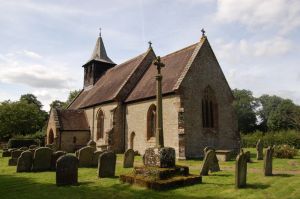 St Michael's church in the village of Sollershope is a small 14th-century country building closely linked to the Whittington family, whose most famous member was Dick Whittington, the three-time Lord Mayor of London whose much-simplified life story is familiar to every schoolchild.
The church is built of sandstone rubble dressed with ashlar. The exterior is very simple, with a nave, chancel, south porch, and north vestry. There is no tower, but in its place is a 19th-century timber-framed bell turret.
Worship times and services are listed here. Further information about the history of the church can be found on this website page.
Church Wardens:
Fiona Fyshe (07989 338217 or fionafyshe@hurstans.com)

Safeguarding Officer:
Fiona Fyshe fionafyshe@hurstans.com 07989 338217
Church Location:
St Michael's Church,
Sollershope,
Herefordshire,
HR1 4RW