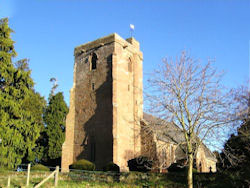 St. Mary's Church is in the hamlet of Foy, just north of Ross-on-Wye, in South Herefordshire.
St. Mary's Church commands perhaps one of the finest views in the shire across the River Wye from its position on top of a small cliff of exposed old red sandstone. Due to the secluded location on a peninsula in a meander of the River Wye, the village can only be accessed via a no-through road. Our worship times and services are listed here.
Church website accessed here.
Warden:
Andrew Netting (01989 562238 or stmarysfoy@live.co.uk)
Safeguarding Officer:
Andrew Netting stmary'sfoy@live.co.uk 01989 662238
Location:
St Mary's,
Foy,
Herefordshire,
HR9 6QY